"FASCINATING."
– RogerEbert.com
"AIMS TO SPARK A CULTURAL AND POLITICAL MOVEMENT."
– Forbes
"THE KEY TO SAVING OUR PLANET MAY BE IN THE SOIL."
– Film Inquiry
"NEEDS TO BE SEEN BY EVERYONE."
– Digital Journal
PURCHASE TICKETS TO SEE COMMON GROUND
| | | |
| --- | --- | --- |
| 9/27 | Seattle, WA | Town Hall – SOLD OUT |
| 9/29-10/5 | Sedona AZ | Mary Fisher – GET TICKETS |
| 9/28-10/5 | Portland, OR | Cinema 21 – GET TICKETS |
| 9/29-10/5 | NYC, NY | Village East by Angelika – GET TICKETS |
| 10/01 | Ithaca, NY | Cinemapolis – GET TICKETS |
| 10/2-10/9 | Boulder, CO | Dairy Arts Center – GET TICKETS |
| 10/4 | Austin, TX | Paramount Theatre – GET TICKETS |
| 10/6-10/12 | Santa Monica, CA | Laemmle Monica Film Center – GET TICKETS |
| 10/6-10/12 | Modesto, CA | State Theatre – GET TICKETS |
| 10/6-10/12 | Grass Valley, CA | Del Oro Theatre – GET TICKETS |
| 10/7 | Bellingham , WA | Pickford Cinema – GET TICKETS |
| 10/8 | Santa Barbara, CA | Marjorie Luke Theater – GET TICKETS |
| 10/11-10/13 | Fairfield, IA | Cinema Fairfield – GET TICKETS |
| 10/6-10/12 | Asheville, NC | Fine Arts Theatre – GET TICKETS |
| 10/13-10/19 | Lincoln, NE | Marcus Lincoln Grand 14 |
| 10/13-10/19 | Omaha, NE | Marcus Majestic-Omaha 19 |
| 10/13-10/19 | Cedar Rapids, IA | Marcus Cedar Rapids 16 |
| 10/13-10/19 | Columbus, OH | Marcus Crosswoods 17 |
| 10/13-10/19 | Columbus, OH | Marcus Pickerington 17 |
| 10/13-10/19 | Ithaca, NY | Cinemapolis |
| 10/18 | Encinitas, CA | La Paloma Theatre – GET TICKETS |
| 10/20-10/26 | Eugene,  OR | Art House |
| 10/20 | Dallas, TX | Texas Theatre – GET TICKETS |
| 10/21 | Santa Cruz, CA | Rio Theatre – GET TICKETS |
| 10/22 | San Rafael, CA | Smith Rafael Center – GET TICKETS |
| 10/24 | Arlington, MA | Regent Theatre – GET TICKETS |
| 10/27 -11/2 | San Francisco, CA | Roxy Theater – GET TICKETS |
| 11/1, 11/6 | Cincinnati, OH | Esquire Theatre – GET TICKETS |
| 11/9 | Newport, RI | Jane Pickens Theatre |
| 11/12 | Cincinnati, OH | Mariemont Theatre – GET TICKETS |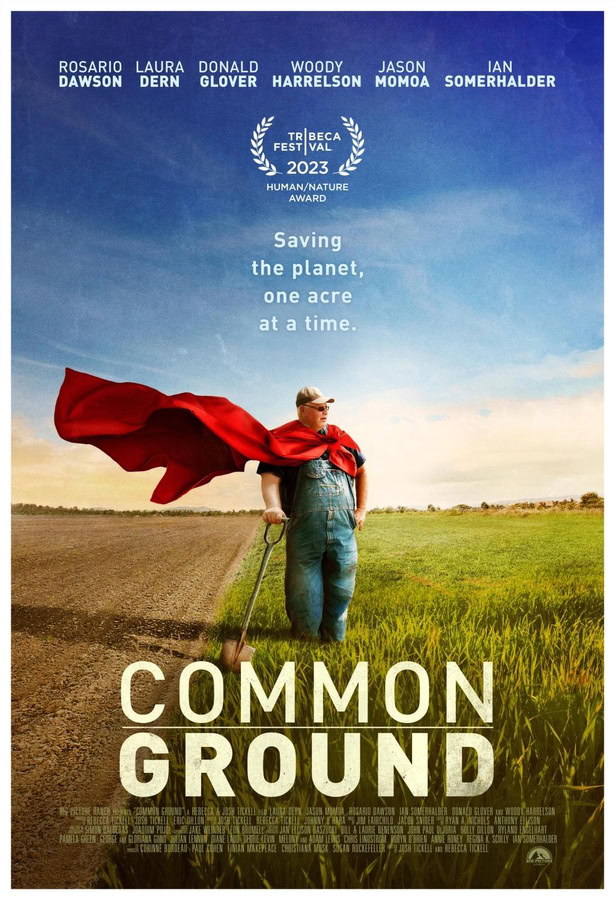 From the filmmakers of 'Kiss the Ground' (Netflix) comes the follow-up documentary 'Common Ground', winner of the Tribeca Film Festival. Common Ground is an important new documentary film featuring Laura Dern, Jason Momoa, Woody Harrelson, Ian Somerhalder, Donald Glover, Rosario Dawson, Mark Hyman, Gabe Brown, and many others. Directed by Josh and Rebecca Tickell, Common Ground provides hope for future generations with concrete ways to fix a broken planetary system. The film explores how regenerative agriculture can help heal the soil, our health and the planet.
1,000 Theaters

1 Million New Farmers
100 Million Acres of Regenerative Land
The very best way to keep up with this growing movement is to join the conversation on all of our channels. 
Our Goal:
100 Million Acres
Join the solution-driven movement of regenerative leaders as they make a case for soil health across North America and beyond. We can all find our 'common ground' to heal the soil, our health, and the planet. No action is too small.

CELEBRITIES
Laura Dern
Jason Momoa
Woody Harrelson
Donald Glover
Rosario Dawson
Ian Somerhalder
SUBJECTS
Alejandro Carrillo
Amber Dykshorn
Carey Gillam
Charles Benbrook
US Senator Cory Booker
Cristine Morgan, Ph.D.
Dan Imhoff
Dariush Mozaffarian, M.D.
David LeZaks
Dewayne "Lee" Johnson
Elyse Towey
Gabe Brown
Glenn Elzinga
John Piotti
Jonathan Lundgren, Ph.D.
Kara Boyd
Kelly Ryerson
Kelsey Ducheneaux-Scott
Ken Cook
Leah Penniman
Liz Carlisle
Lyla June Johnston, Ph.D.
Mark Hyman, M.D.
Mia Vaughnes
Ray Archuleta
Rick Clark
Robyn O'Brien
Roy Thompson
Tim Rhodd
Toby Kiers, Ph.D.
Urvashi Rangan, Ph.D.
Zach Ducheneaux
Zen Honeycutt
Even the most insurmountable problems have solutions. Revolutions often start with one radical idea.