"FASCINATING."
– RogerEbert.com
"AIMS TO SPARK A CULTURAL AND POLITICAL MOVEMENT."
– Forbes
"THE KEY TO SAVING OUR PLANET MAY BE IN THE SOIL."
– Film Inquiry
"NEEDS TO BE SEEN BY EVERYONE."
– Digital Journal
FOR YOUR CONSIDERATION
BEST DOCUMENTARY 2023
PURCHASE TICKETS TO SEE COMMON GROUND
Encino, CA | Dec 1 - 7 | Laemmle Town Center 5
SCREENING FREE TO AMPAS MEMBERS
Point Arena, CA | Dec 10 - 14 | Arena Theatre
Kansas City, KS | Dec 1 - 17 | Glenwood Arts Theater
Los Angeles, CA | Dec 12 | Laemmle Royal
Fairfax, VA | Dec 11 | Cinema Arts
Atlanta, CA | Dec 15 - 21 | Tara Theatre
Provincetown, RI | Dec 22 | Waters Edge
Tulsa, OK | Jan 12 -18 | Circle Cinema
Salina, KS | Jan 12 -18 | Salina Art Center
Ann Arbor, MI | Jan 13 | Michigan Theatre
Parkside, WI | Jan 13 | UWP Cinema
Toronto, Canada | Jan 17, 21, 25 | Ted Rogers Cinema
Rosendale, NY | Jan 25 | Rosendale Theatre Collective
San Antonio, TX | Jan 26 | McAllister Auditorium
Taos, NM | Feb 23 | Taos Center for the Arts
Scituate, MA | Feb 28 | The Reel Harbour Theater
Bedford, NY | March 7 | Bedford Playhouse
Don't see your city? Demand a screening in your area!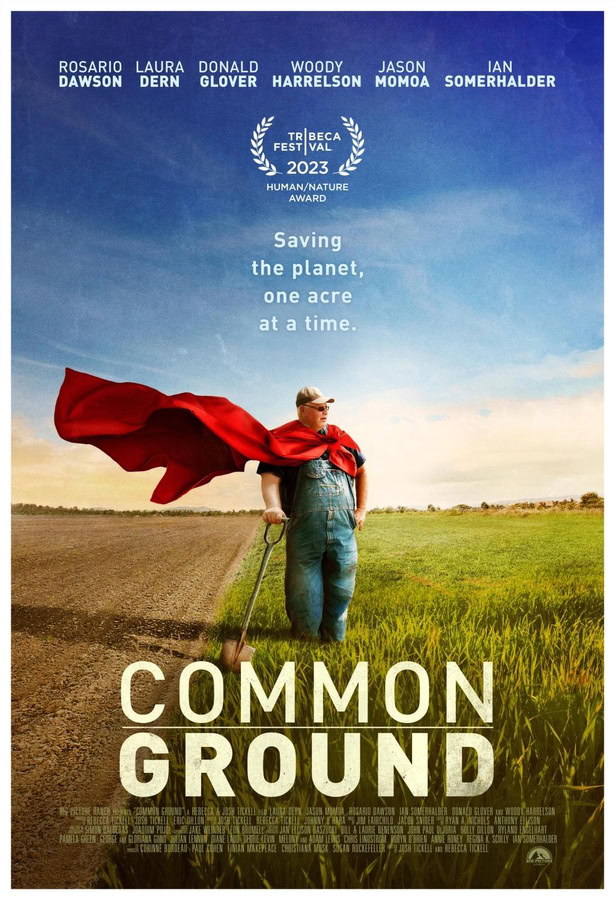 From the filmmakers of 'Kiss the Ground' (Netflix) comes the follow-up documentary 'Common Ground', winner of the Tribeca Film Festival. Common Ground is an important new documentary film featuring Laura Dern, Jason Momoa, Woody Harrelson, Ian Somerhalder, Donald Glover, Rosario Dawson, Mark Hyman, Gabe Brown, and many others. Directed by Josh and Rebecca Tickell, Common Ground provides hope for future generations with concrete ways to fix a broken planetary system. The film explores how regenerative agriculture can help heal the soil, our health and the planet.
WE'RE BUILDING A MOVEMENT
Together we can create the "tipping point" for regenerative agriculture. This will mean screening Common Ground across the country and around the world, building a consumer advocacy force, educating new farmers, putting an educational version of the movie into schools and ultimately changing our farming practices. These are big goals and that's why we need your help.
1,000 Theaters

1 Million New Farmers
100 Million Acres of Regenerative Land
The very best way to keep up with this growing movement is to join the conversation on all of our channels. 
Join the solution-driven movement of regenerative leaders as they make a case for soil health across North America and beyond. We can all find our 'common ground' to heal the soil, our health, and the planet. No action is too small.
Our Goal:
100 Million Acres

CELEBRITIES
Laura Dern
Jason Momoa
Woody Harrelson
Donald Glover
Rosario Dawson
Ian Somerhalder
SUBJECTS
Alejandro Carrillo
Amber Dykshorn
Carey Gillam
Charles Benbrook
US Senator Cory Booker
Cristine Morgan, Ph.D.
Dan Imhoff
Dariush Mozaffarian, M.D.
David LeZaks
Dewayne "Lee" Johnson
Elyse Towey
Gabe Brown
Glenn Elzinga
John Piotti
Jonathan Lundgren, Ph.D.
Kara Boyd
Kelly Ryerson
Kelsey Ducheneaux-Scott
Ken Cook
Leah Penniman
Liz Carlisle
Lyla June Johnston, Ph.D.
Mark Hyman, M.D.
Mia Vaughnes
Ray Archuleta
Rick Clark
Robyn O'Brien
Roy Thompson
Tim Rhodd
Toby Kiers, Ph.D.
Urvashi Rangan, Ph.D.
Zach Ducheneaux
Zen Honeycutt
Even the most insurmountable problems have solutions. Revolutions often start with one radical idea.